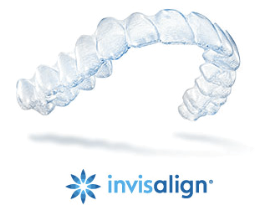 Invisalign uses almost invisible, detachable aligners which help straighten your teeth and manage overbite and under-bite. The aligners are clear and made with 3D computer imaging technology that help to slowly guide the teeth to their proper location so they achieve perfect allignment. Unlike metal braces, Invisalign doesn't have any brackets or wires which are unsightly and often snag on lips and gums and also trap food. During your consult with Dr Kelsey Syme, she will help determine if Invisalign is the right option for the long term health of your teeth, bite and smile. If you are a good candidate, she will create a treatment plan for your case that is based on a 3D scan of your teeth and create customized aligners which fit over your teeth. These aligners should be replaced approximately every two weeks as your teeth slowly re-position in to place. Based on your personalized treatment plan, you will need to wear the aligners full time, except during eating or drinking for 1 to 2 years.
What are the benefits of Invisalign?
Customized teeth aligners that are nearly undetectable on the teeth
Easy removal for daily dental routines and also eating, drinking, brushing and flossing
Less time at the dentist for maintenance and adjustments
Invisalign are removable and virtually invisible, which means you can eat and drink what you want during the treatment.
To know more about the benefits of Invisalign and how it can benefit you, you can contact Dr. Kelsey Syme and the team at Briar Hill Dental to discuss your options.